KORAIL's Metropolitan Railway HQ
operates metropolitan rail servicestrains and ITX-Cheongchun for .citizens residing in the metropolitan area.
With the opening of the Gyeongbu, Gyeongin, and Gyeongwon Lines in August 1974, it began as the Planning Section of the Transport Office of the National Railroad Administration. At that time, about 200,000 people in the metropolitan area from 29 stations were transported Currently after about 4 decades, we operate metro rail services with 268 metro stations and are beyond doubt a major means of transport for the citizens in the metropolitan area.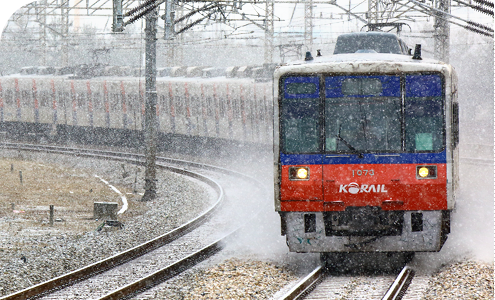 Main Duties at Metropolitan Transport HQ
Establishing mid- to long-term management strategies for the metropolitan railway and scheduling major work plans
Planning, working on tender bidding projects on private-found/competing lines, working on agreements with other organisations
Planning for metro rail service operation, establishing fare systems
Working on transport card related business
Business distance(km)
1974year:74km
2021year:667.2km
Number of stations
Number of train operations per day
1974year:215
2021year:2,566
History of KORAIL's Metro Railway
Number of stations, number of trains operated per day, operating distance (km)

| Opening date | Operating sections | Opening date | Operating sections |
| --- | --- | --- | --- |
| Sep. 12, 2020 | Suin Line (Suwon–HanyangUniversity at Ansan) | Mar. 28, 2020 | Gyeongui Line(Munsan–Imjingang) |
| Jan. 21, 2017 | Jungang Line (Yongmun–Jipyeong) | Dec. 30, 2016 | Donghae Line (Bujeon–Ilgwang) |
| Sep. 24, 2016 | Gyeongang Line (Pangyo–Yeoju) | Feb. 27, 2016 | Suin Line (Songdo–Incheon) |
| Dec. 27, 2014 | Gyeongui Line(Gongdeok–Yongsan) | Nov. 30, 2013 | Bundang Line (Mangpo–Suwon) |
| Dec. 15, 2012 | Gyeongui Line (Gongdeok–Gajwa) | Dec. 1, 2012 | Bundang Line (Giheung–Mangpo) |
| Oct. 6, 2012 | Bundang Line(Wangsimni–Seolleung) | Jun. 30, 2012 | Suin Line (Oido–Songdo) |
| Dec. 28, 2011 | Bundang Line (Bojeong–Giheung) | Dec. 21, 2010 | Gyeongchun Line (Mangu–Chuncheon) |
| Feb. 26, 2010 | Byeongjeom Depot Line(Byeongjeom–Seodongtan) | Dec. 23, 2009 | Jungang Line (Guksu–Yongmun) |
| Jul. 1, 2009 | Gyeongui Line (Seoul–Munsan) | Dec. 29, 2008 | Jungang Line (Paldang–Guksu) |
| Dec. 15, 2008 | Janghang Line(Cheonan–Shinchang) | Dec. 27, 2007 | Jungang Line (Deokso–Paldang) |
| Dec. 15, 2006 | Gwangmyeong Shuttle Train(Geumcheon-gu Office–Gwangmyeong) | Dec. 15, 2006 | Gyeongwon Line(Uijeongbu–Soyosan) |
| Dec. 21, 2005 | Gyeongin Double Track Line(Juan–Dongincheon) | Dec. 16, 2005 | Jungang Line(Cheongnyangni–Deokso) |
| Jan. 20, 2005 | Gyeongbu Double Track Line(Byeongjeom–Cheonan) | Nov. 26, 2004 | Bundang Line (Ori–Bojeong) |
| Sep. 3, 2003 | Bundang Line (Seolleung–Suseo) | Apr. 30, 2003 | Gyeongbu Double Track Line(Suwon–Byeongjeom) |
| Mar. 15, 2002 | Gyeongin Double Track Line(Bupyeong–Juan) | Jul. 28, 2000 | Ansan Line (Ansan–Oido) |
| Jan. 29, 1999 | Gyeongin Double Track Line(Guro–Bupyeong) | Jan. 30, 1996 | Ilsan Line (Jichuk–Daehwa) |
| Sep. 1, 1994 | Bundang Line (Suseo–Ori) | Apr. 1, 1994 | Gwacheon Line(Indeogwon–Namtaeryeong) |
| Jan. 15, 1993 | Gwacheon Line(Geumjung–Indeogwon) | Oct. 25, 1988 | Ansan Line (Geumjung–Ansan) |
| Sep. 2, 1986 | Gyeongwon Line(Changdong–Uijeongbu) | Apr. 25, 1985 | Gyeongwon Line (KwangwoonUniv.–Changdong) |
| Dec. 9, 1978 | Gyeongwon Line (Yongsan–Cheongnyangni) | Aug. 15, 1974 | Gyeongwon Line(Cheongnyangni–Kwangwoon Univ.) |
| Aug. 15, 1974 | Gyeongin Line (Guro–Incheon) | Aug. 15, 1974 | Gyeongbu Double Track Line(Seoul–Suwon) |