KORAIL's Logistics Business HQ
is making a leap forward to become a total logistics service provider which transports containers, cement, coal, steel, etc. and offers logistics related services such as loading/unloading, storage, and warehousing.
Railway logistics is energy efficient and eco-friendly, thereby gaining its importance more than ever. The energy usage per unit is 10.2% of cargo vehicles and the CO2 emission per unit is 12.0% of cargo vehicles.

In addition, large-scale transport is available at one go (above 1,000 tonnes); there are no traffic holdups that exists with roads, and the weather condition (snow, rain, wind, etc.) has very little no impact on train railway transport.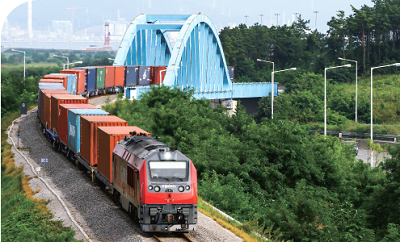 Business Areas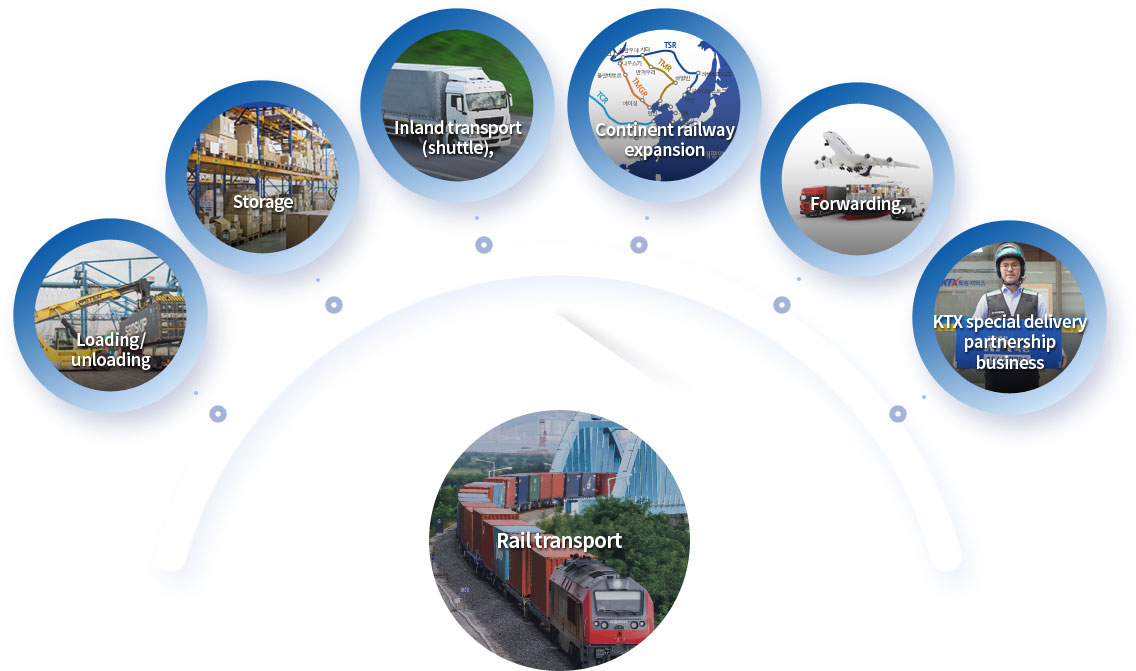 History
History - Year, Description

| Year | Description | Year | Description |
| --- | --- | --- | --- |
| Jul.–Aug. 2020 | Opened Yeongilman Harbor Line (Pohang–Yeongilman Harbor Station), creation/operation of Uiwang ICD redesign task force (T/F) | Dec. 2019 | Introduced 3 units of running automatic rail vehicle weighing system (Obong, Jecheon Jochajang, Busan Newport Station) |
| Feb. 2018 | Established the first railroad logistics industry development plan (2017–2021, Ministry of Land, Infrastructure and Transport) | May 2017 | Test operated 80-car long-haul freight train (wireless dispersion control technology) |
| Mar. 2016 | Enactment and proclamation of the Railroad Logistics Industry Development and Support Act | Apr. 2015 | Implemented logistics responsible business division |
| Oct. 2014 | Received Prime Minister's Award (Korea Logistics Awards 2014) | Mar. 2013 | Opened Busan Newport southern rail facility |
| Aug. 2012 | Introduced Logistics Business Division | Jan. 2012 | Operated Onsan warehouses |
| Jul. 2011 | Converted open freight car to container cars | Dec. 2010 | Operated Busan Newport rail facility |
| Nov. 2010 | Decided/implemented green railway cargo mileage issuance | May 2010 | Newly operated Donghae Station CY |
| May 2009 | Expanded/operated Taegeum warehouse | Dec. 2007 | Operated North-south cargo trains |
| Jan. 2007 | Operated Obong and Susaek warehouses | Jul. 2005 | Started KTX special delivery service |
| Jan. 2005 | Established KORAIL | Nov. 1997 | Operated the world's first freezing/refrigerating containerized train |
| Apr. 1992 | Established/operated Uiwang ICD | Dec. 1977 | Completed construction of Busan/Yongsan station container yard |
| Sep. 1972 | First container transport (Yongsan–Busan) | Sep. 1963 | Established National Railroad Administration |
| Sep. 1899 | Opened Gyeongin Line (Noryangjin–Incheon) | | |
KORAIL's Freight Stations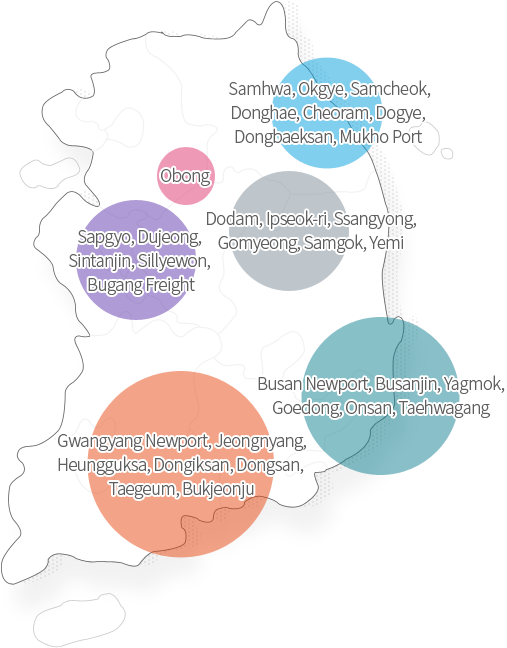 1. Samhwa, Okgye, Samcheok Donghae, Cheoram, Dogye Dongbaeksan, Mukho Port 2.Obong 3.Sapgyo, Dujeong, Sintanjin, Sillyewon, Bugang Freight 4.Dodam, Ipseok-ri, Ssangyong, Gomyeong, Samgok, Yemi 5.Gwangyang Newport, Jeongnyang, Heungguksa, Dongiksan, Dongsan, Taegeum, Bukjeonju 6.Busan Newport, Busanjin, Yagmok, Goedong, Onsan, Taehwagang
Items handled, Major stations

| Items handled | Major stations |
| --- | --- |
| Cement | Dodam, Ipseok-ri, Ssangyong, Samhwa |
| Containers | Obong, Busan Newport, Busanjin, Gwangyang Newport, Jeongnyang, Sapgyo, Bukjeonju, Yagmok, Gunsan, Heungguksa, Dongiksan, Bugang Freight, Dujeong, Sintanjin, Dongsan, Taegeum |
| Coal | Goedong, Mukho Port, Cheoram, Dongbaeksan, Samhwa |
| Steel | Taegeum, Goedong, Sillyewon, Taehwagang, Sapgyo |
| Oil | Onsan |
| Minerals | Yemi, Gomyeong, Donghae |